10 Feb

Sight Word Bingo – K, 1st, 2nd, and 3rd!!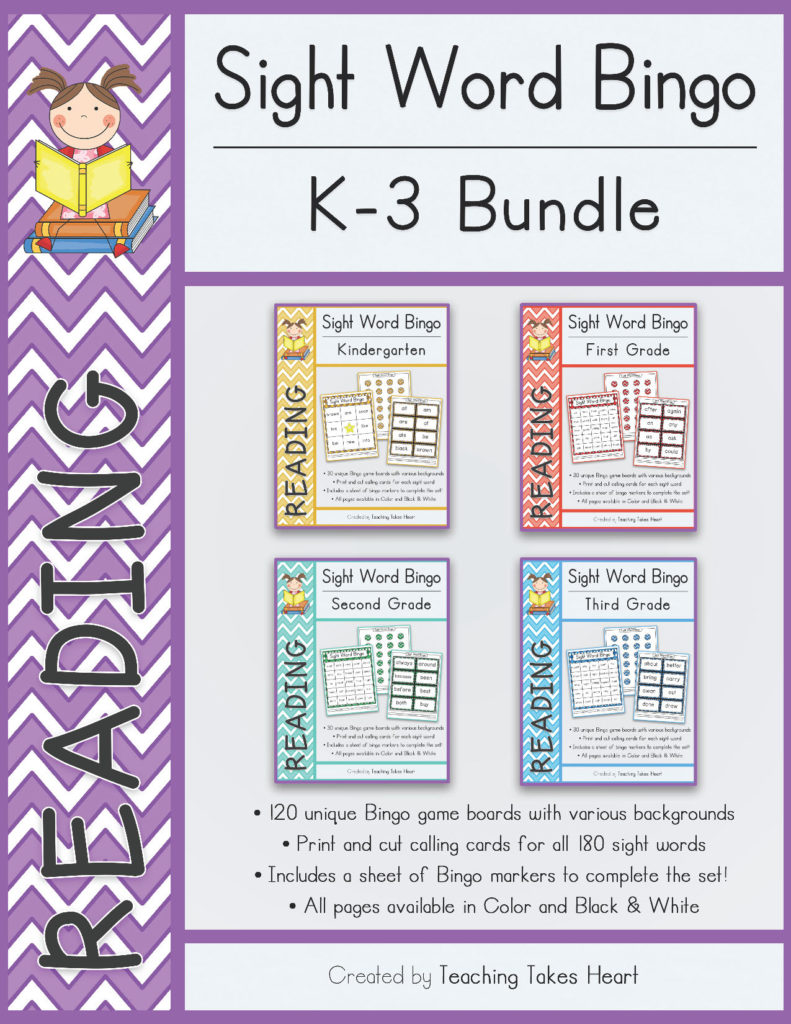 Sight Word Bingo
Hey everyone! Any teachers out there who like incorporating games into their lessons? How about games where the students are not only having fun, but also learning at the same time? That sounds like a win-win, doesn't it?! These new Sight Word Bingo games are available for Kindergarten, First, Second, and Third Grade. There's also a bundle available which includes all three grade levels. The bundle is perfect for resource teachers, specialists, and paraprofessionals to use with students one-on-one or with small groups of students while providing extra support!

Why are sight words so important?
Sight words are the most common words in written text. Sight words don't follow any sort of phonetic patterns or rules and need to simply be memorized. Being able to automatically recognize sight words is important because it helps students build speed and fluency while reading, which in turn helps lead to better reading comprehension. Students need a lot of opportunities to practice sight words in order to achieve mastery and playing Sight Word Bingo is definitely one way to do it!

How can you use this resource?
Games are a really fun way to practice sight words in the classroom and Sight Word Bingo is definitely a kid-favorite! It can be played as a whole class or in a small group setting. You can also put this game in a literary center for groups of students to play on their own. As mentioned before, resource teachers, specialists, and paraprofessionals can also enjoy playing this game with students one-on-one or with small groups of students.

What are the benefits?
-Being able to recognize sight words automatically allows beginning readers to feel success. The more sight words that they know while reading books, then the more excited and motivated they'll be to learn new words.
-Once students memorize sight words, then reading will come more natural to them. They will have more speed and fluency, and this will lead to better comprehension of what they've read.

What's included?
Included with this purchase is a class set of 30 different game boards, calling cards of each sight word for the Bingo caller to randomly select, and Bingo markers for the players to use. The words used for these games are from the Dolch sight word lists.

Your students will have so much fun playing Sight Word Bingo- they'll want to keep playing over and over again!

If you have any questions regarding Sight Word Bingo or any of our other products, you can email me at [email protected]. Additionally, if you find this resource to be useful, please consider following our store on Teachers Pay Teachers to stay up-to-date with newly released products. We would also appreciate you leaving a review for this product on our TPT webstore. Thank you!

Hope you all have a great week! 🙂

Beth