27 Mar

Primary Writing Prompts – Summer Bundle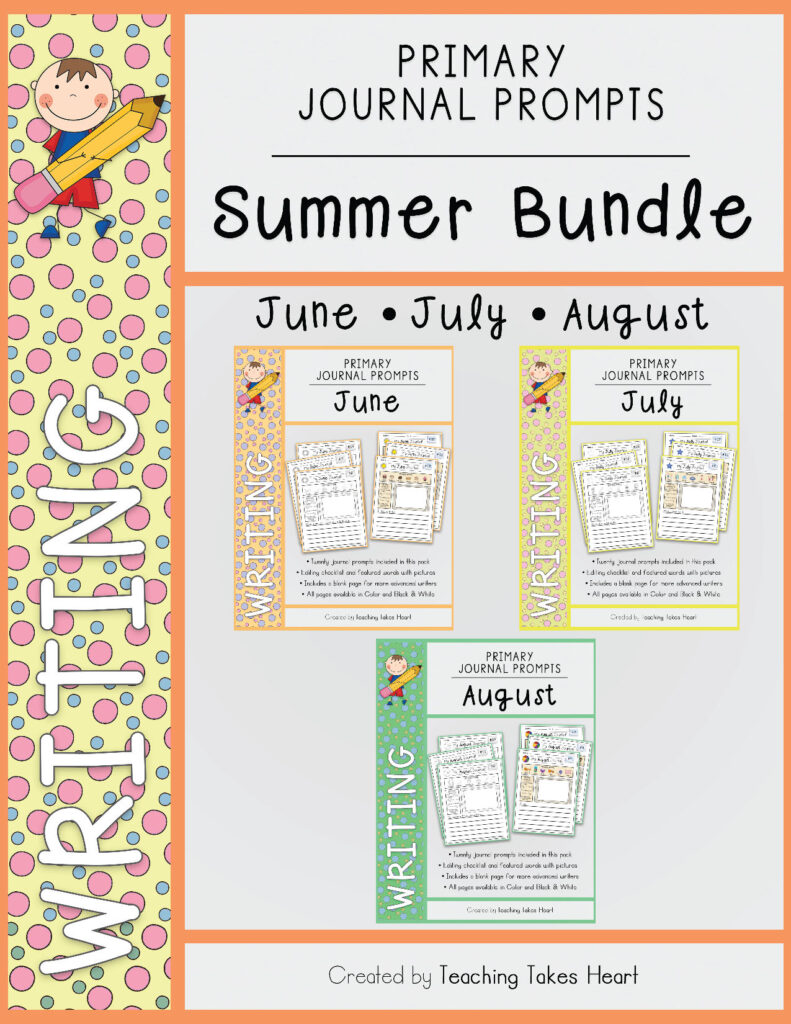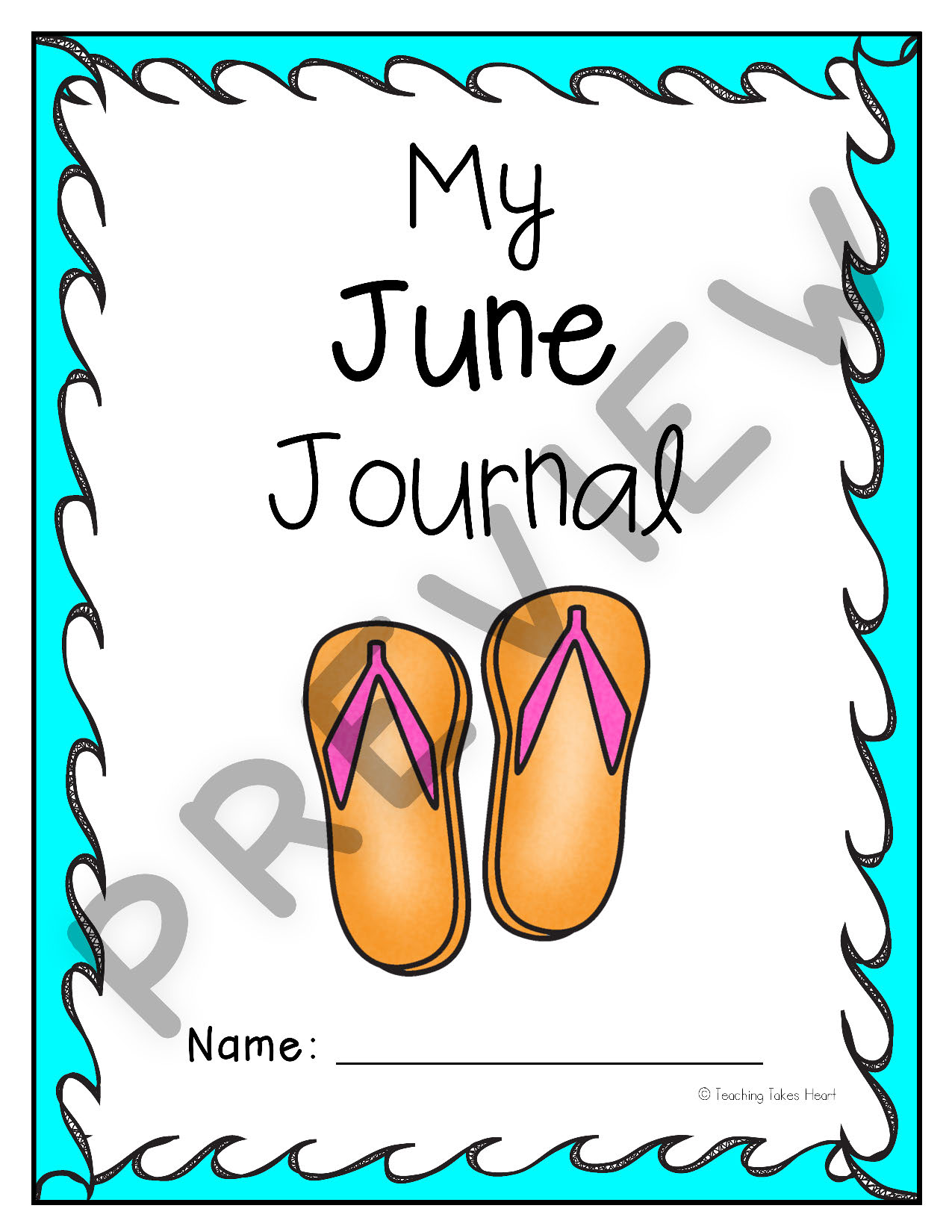 Primary Writing Prompts – Summer Bundle
Includes the months of June, July, and August. Color and Black/White versions available for all pages! 
Check out our new Summer Bundle of daily journal prompts. These are a FUN and ENGAGING way to keep your students' writing skills sharp. Great for students in grades K-2! Give your students extra writing practice over the summer and help to prevent that summer slide (yikes!)— Do your parents a favor and send these journal prompts home with your students to give them that daily practice we all know they need.
Daily journal writing in the classroom (and at home!) is a great way to help students practice their writing skills. Having solid writing skills is essential to student success. These journal prompts, which are targeted for students in kindergarten- 2nd grade, will help get your kids excited about writing. One of my students favorite times of the school day was when they had a chance to write in their monthly journal. Learn more about how you can use these journal prompts and the benefits for students!
How can you use this resource?
Print this resource out for your students and send it home with them over summer break! So many teachers send home work packets with their students to help keep their skills in check and to prevent that dreaded summer slide, especially for reading, math, and writing. Well for writing, we've got you covered! Look no further because this amazing writing packet is exactly what you need! This is an authentic, easy, and stress-free way for your students to practice their writing skills in just 15-20 minutes a day.
These journal pages are great for students in kindergarten-2nd grade having featured words, pictures, and a sentence starter on each page. There is also an editing checklist to double check that students wrote in complete sentences, used a capital letter at the beginning of all their sentences, used proper punctuation at the end, and that all of the special words were spelled correctly. After students write and edit their work, they can then use the framed space on the page to draw an illustration that matches their writing.
What are the benefits?
It creates a predictable routine. Your students engaged in journal writing at school, and now they can continue doing journal writing at home. And parents will be so glad to see that their child is getting some daily writing practice over the summer!
They can express themselves in writing with limited pressure. Writing is one of the most challenging tasks for students, especially for our struggling readers and English Language Learners. Journal writing is a time each day when they can write without worrying that they're doing it "the wrong way."
Your students' writing quality will improve. Through daily journal writing, they will naturally get into the habit of writing in complete sentences, using a capital letter at the beginning of sentences, and punctuation at the end.
Students will have an opportunity to practice all of the skills they learned in school. By having them practice their writing over the summer, it can help prevent students from forgetting all the skills they learned in school and it can help them to form good daily writing habits.
And best of all, it's fun! Your students won't even feel like they're doing work, so it's truly a win-win for everyone!
What's included?
This Summer Bundle contains journal prompts for the months of June, July, and August.
Each month has the following journal items:
Student Cover Page (Available in full color and also a B&W version that kids can color!)
Journal Prompts for 20 days (Color and B&W versions available)
Blank Journal Page
Journal Prompts Included:
June Prompts
1 – In June,
2 – Summer makes me feel
3 – My favorite outdoor summer activity is
4 – When I go to the beach
5 – One summer morning, a ladybug
6 – My favorite indoor summer activity is
7 – My favorite reptile is
8 – In a swimming pool,
9 – To help my dad feel special on Father's Day,
10 – My favorite ice cream flavor is
11 – If I was a super hero, my special power would be
12 – I like to bake
13 – If it's hot outside,
14 – A fun thing I can do with my friends is
15 – At summer camp,
16 – One day a busy little bee
17 – My favorite baby animal is
18 – On a sunny day,
19 – At a carnival,
20 – My favorite thing about June was
21 – Blank
July Prompts
1 – In July,
2 – At a water park,
3 – The USA flag
4 – At a 4th of July party,
5 – My favorite color firework is
6 – At a sleepover,
7 – My favorite carnival snack is
8 – To make lemonade,
9 – My favorite type of cookie is
10 – On vacation
11 – Some ways I keep cool in the summer are
12 – One of my favorite summer activities is
13 – Today I played with
14 – One summer day at the beach
15 – My favorite jungle animal is
16 – A lifeguard
17 – My favorite type of fish is
18 – Some things that are green are
19 – The pirate ship was sailing
20 – My favorite thing about July was
21 – Blank
August Prompts
1 – In August,
2 – My favorite drink is
3 – A cat
4 – At the airport,
5 – At the beach, I like to
6 – To make a fruit smoothie,
7 – In the desert,
8 – When I play soccer
9 – To grow a flower, I need
10 – A police officer
11 – To get ready for a new school year,
12 – At a pet shop,
13 – A doctor
14 – In the rainforest,
15 – A mother duck and her ducklings
16 – My favorite insect is
17 – A train
18 – My favorite thing I did over the summer is
19 – My goal for the new school year is
20 – My favorite thing about August was
21 – Blank
These journal prompts are a great way to help keep your students' writing skills sharp over the summer. And the best part- your students will really enjoy and look forward to doing this each day! Be sure to check out our School Year Bundle of monthly journal prompts- it gets great reviews on TpT!
Beth
If you find this resource to be useful, please consider following our store on Teachers Pay Teachers to stay up-to-date with newly released products. We would also appreciate you leaving a review for this product on our TpT webstore. Thanks for your support!